Snoop Dogg Held Up in Norway For Carrying Too Much Cash
Who knew you could get stopped by authorities for carrying too much cash. California rapper Snoop Dogg was stopped by immigration officials in Norway for carrying too much money. He was due to make an appearance at an Adidas store before performing at Oslo's Spektrum Arena. "They talkn bout takn my $!!" the Doggfather tweeted. "That aint rite!! Norway standup 4 the biggdogg!! they makn me late 4 this adidas instore autograph signin!" He was eventually released and went about his business. "Shout out 2 all 600 fans in Oslo who waited all day at the Adidas instore signin," he tweeted. "Good lookn out."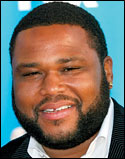 Anthony Anderson Joins the Fight Against Diabetes
Anthony Anderson is getting on board with the Fearless African Americans Connected and Empowered (F.A.C.E.) diabetes initiative to bring awareness to one of the most deadly diseases plaguing the Black community. The comedian and actor, a Type 2 diabetic, lost his father to diabetes and is now dealing with his mother's struggle with the disease. "The first thing is, they should go to the doctor for yearly check-ups. That's what we need to do as a whole," Anderson tells the Huffington Post. "And speaking to African-American men in particular, we need to start going to the doctor. My father had diabetes; we don't know how long he had it before he was diagnosed with it. So that's first and foremost. But with type 2 diabetes, it's all about lifestyle. Eating too much of the wrong things and not balancing that out with exercise. So that's what I would tell people to do: Eat healthier, eat less than what you normally put into your system, and balance that out with walking around your neighborhood or the park." Anderson was diagnosed after experiencing excess fatigue, extreme thirst and dry mouth, and was frequenting the bathroom, all common symptoms of the disease. Although he's a busy man, he's learning how to deal with diabetes. "It's about discipline," he says. "I could either die from this disease, or live with it as best as I can. I choose to live with it…. It's all about planning. And if you fail to plan, you know how that goes. So it's all about planning your day out, your meals ahead of time, and that makes it that much easier."
Book Claims Obama Writes Personal Checks to Struggling Citizens
The White House declined to answer any questions about the practice, Delaney reports.
He continues: It's long been known that the president occasionally responds to the people who write him. Several folks who've heard back from Obama have even put the correspondence up for sale. NBC reported in June, for instance, that a single mom from Hobart, Ind. hoped to stave off eviction by selling an Obama letter for thousands of dollars. And a man who'd received a note from the president in response to an angry letter about bank bonuses put the letter up for auction in March. It seems like Obama views writing a check or making a phone call on a correspondent's behalf as a way for him to alleviate the powerlessness he sometimes feels when reading his mail from regular people. Some of these letters you read and you say, 'Gosh, I really want to help this person, and I may not have the tools to help them right now,'" the president told Saslow. "And then you start thinking about the fact that for every one person that wrote describing their story, there might be another hundred thousand going through the same thing. So there are times when I'm reading the letters and I feel pained that I can't do more, faster, to make a difference in their lives."
BeBe and CeCe Winans to Receive Walk of Fame Star
Multi-Grammy award winning gospel act BeBe and CeCe Winans' celebrated career will be honored with the 2,452nd star on the Hollywood Walk of Fame in, October 2011. They began singing professionally in 1982 as members of the PTL Singers. Known for their contemporary R&B style the Detroit natives are a bright reflection of the Winans gospel music dynasty. They have sang in tandem for over 20 years as well as enjoyed success as solo artists. Among their top recordings are "Heaven," "Addictive Love," "If Anything Ever Happened to You" and "It's Okay." The Walk of Fame distinction solidifies BeBe and CeCe's place among gospel royals Mahalia Jackson, James Cleveland and Andrae Crouch who also have stars. The pair join Melissa Etheridge, Los Tigres Del Norte, Rascal Flatts, Go-Go's, Slash, and will i. Am as 2011 "Star" recipients in the recording artist category. The Hollywood Chamber of Commerce will cement their star and consequently the duo's contribution to music history into the honorable Walk of Fame on October 20 at 11:30 a.m. at 6126 Hollywood Blvd. The event is open to the public.
Eddie Long in Deep Doo Doo Again – This Time with His Own Church Folks
Ten parishioners lost more than a million dollars after investing in a company Bishop Eddie Long The allegations are the latest in a string for the embattled Long of New Birth Missionary Baptist Church in Lithonia. Earlier this year, Long reached an undisclosed financial settlement with five men who accused the him of sexual coercion. Late last month, Long reached a settlement in a lawsuit that claimed he and partners in a real estate venture defaulted on a $2 million bank loan.
The most recent suit stems from a three-day investment seminar Long held at the church in October 2009, at which church members were encouraged to invest in a company named City Capital Corporation, according to the suit. The company's then-CEO, Ephren Taylor, attended and was heralded by Long, attorney Jason Doss told the AJC. Doss, of Marietta, and attorney Quinton Seay are co-counsels in the suit. "I am responsible for everyone I bring before you and what they say," Long said at the seminar, according to the lawsuit. "The gentleman that I am going to bring before you is an ordained minster. That gives me great pride to bring him for you." But those that heeded Long's advice and invested with Taylor's company lost every penny, Doss said. Not only was Taylor not licensed to sell investment products, but his company was in serious financial trouble, based on its own annual reports, according to the attorneys. "This company was failing and what he (Taylor) was trying to do was bail it out by bilking investors," Doss said Wednesday night. Taylor is no longer with the company, Doss said. Although it's not clear if Long previously knew of City Capital's financial woes, he publicly appealed to the company to "do what's right" and return the invested money with interest, if possible, in a video posted on YouTube. He said neither he nor his DeKalb County megachurch benefited from the investing members did with City Capital. But both the church and Long were compensated for their roles in soliciting the investments, the lawsuit contends. The attorneys representing the plaintiffs contend some of those that invested have lost life savings due to their involvement in the scam.
"It's a terrible thing, especially when you suffer a loss like that from your church and your pastor," Seay said late Wednesday. "A lot of them have been members at New Birth Baptist for a very long time. They were given some extremely bad advice."